Greetings from Bhutan! Koenraad & Lynne Foulon, long-time and major patrons of our school, are organizing a fundraising trek to benefit CTAS beginning on 30
th
March of this year. Together with a small team of friends, they will come to Bhutan to hike an auspicious 108 km of the Trans Bhutan Trail, an ancient route which runs 403 kilometers from Haa in the West of Bhutan to Trashigang in the East.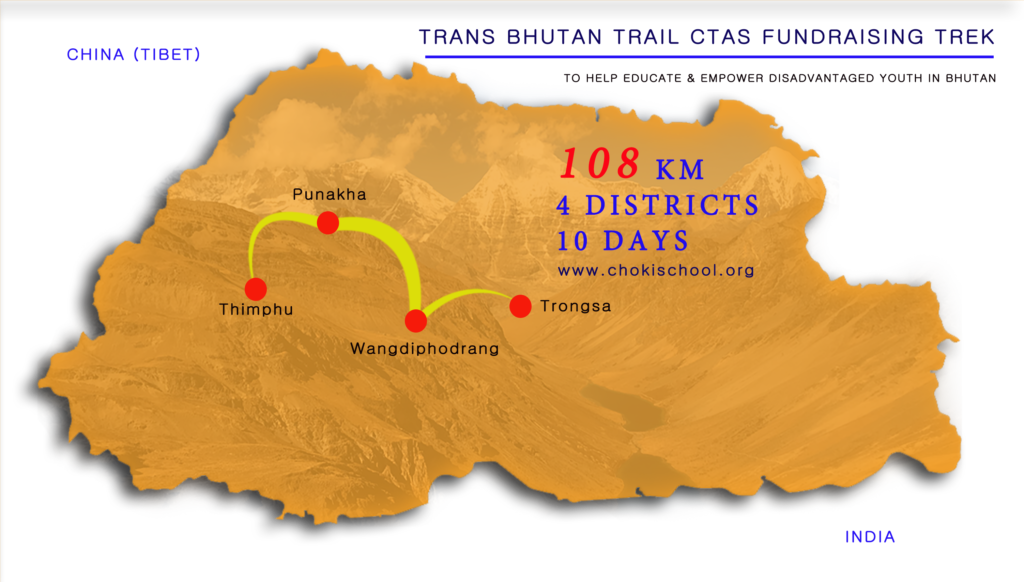 Their objective is twofold:
To raise awareness of CTAS beyond the borders of Bhutan
To raise essential funding for CTAS to continue to provide quality, free education for underprivileged Bhutanese youths
Educating these young men and women in the traditional arts and crafts of Bhutan not only enables them to become skilled, productive and contributing members of society, but directly contributes to the restoration and preservation of the rich and unique culture of this mountain Kingdom. The Trans Bhutan Trail dates back to the 16th century, when it was the only means of communication between the strategically located dzongs (fortresses) along the route. Over time, the Trail played a major role in uniting the region's many kingdoms, culminating in the birth of Bhutan as a nation in 1907. The team will appropriately launch their trek from CTAS with a traditional ceremony of offerings and blessings for good health and positive energy. Along the trail, they will be able to see impressive works of some our CTAS alumni at various dzongs and temples. The trek will conclude at the historic 17th century Trongsa Dzong, which is Bhutan's geographical centre and closely linked to the Bhutanese Monarch: the first two hereditary Kings ruled from Trongsa Dzong and the crown prince still traditionally serves as the Penlop (Governor) of Trongsa before acceding to the throne. Koenraad, Lynne and team hope that people will recognise the value of helping CTAS continue its honourable work by choosing to donate to this fundraising trek. For them, as for us here at CTAS, every contribution is important when it is from the heart. Donations can be made via 'GOFUND ME' a popular and secure platform, hosted on the webpage of the Himalayan Youth Foundation (HYF US)
https://gofund.me/7970a9ab
. Every penny donated to this fundraising trek will go to support CTAS. All participants and organisers are covering their travel and logistics in full for this undertaking. Download PDF ——>
How to Make a Donation
For those who wish to follow the intrepid adventurers, the trek will be updated with photos and short videos on social media (face book and Instagram). During the trek from 30 March to 12 April you can follow us: On Facebook:
https://www.facebook.com/transbhutantrek
On Instagram:
https://www.instagram.com/transbhutantrek2022
Facebook
Instagram
We look forward to your support in this campaign. For more information, please contact: Sonam Choki (
[email protected]
) Dorji Wangmo (
[email protected]
).
Trans Bhutan Trail CTAS Fundraising Challenge